PRESS RELEASE
May 28, 2014
FCSO K-9 TRACKING TEAMS EARN NATIONAL RECOGNITION
The American Police Canine Association (APCA) has awarded five Florence County Sheriff's Office K-9 Teams with Level III Certification, the highest level of achievement offered by the nationally recognized agency for K-9 certification.  Level III certification requires the team successfully run an unknown trail at least one hour old for a distance of over one and a half miles, to include vegetative surfaces, two paved surfaces, partially downwind, two ninety degree turns, traverse a wooded area, cross a stream, negotiate a human cross track laid after the original trail, traverse an area of vehicular traffic and businesses with other human activity, and find the person who laid down the original track.  
In 2013, two K-9 teams met the Level III Certification, both of whom are FCSO deputies and K-9s.  On May 20, 2014, APCA President, Mike Johnson presented FCSO K-9 Team Corporal Shane T. Keith and his K-9 Sophie as well as Corporal Tony B. Moore and his K-9 Savanna with their 2013 President's Award plaques of achievement for Level III Certification. (See photograph attached:  left to right, Corporal Tony B. Moore, Sheriff Kenney Boone, APCA President Mike Johnson and Corporal Shane T. Keith)
In 2014, three additional FCSO K-9 Teams achieved Level III Certification.  They include Sergeant Austin T. Spell and his K-9 Una, Corporal Jamie Renfroe and his K-9 Roby and Investigator Mike L. Jack and his K-9 Scarlett.  Only 17 K-9 teams in the United States have achieved Level III Certification with APCA, and five of those are with FCSO.  
"We could not be more proud of our K-9 Teams or this recognition," Sheriff Kenney Boone stated.  "The level of dedication and training of these teams keeps us in elite company when measured against national standards.  Congratulations to all these teams for their professionalism and service."
The American Police Canine Association (www.theapca.com) is based in Indiana and is recognized as a leading certifying agency for Police K-9 Teams in the United States.  ACPA is authorized by the South Carolina Criminal Justice Academy to certify Police K-9s in the State of South Carolina.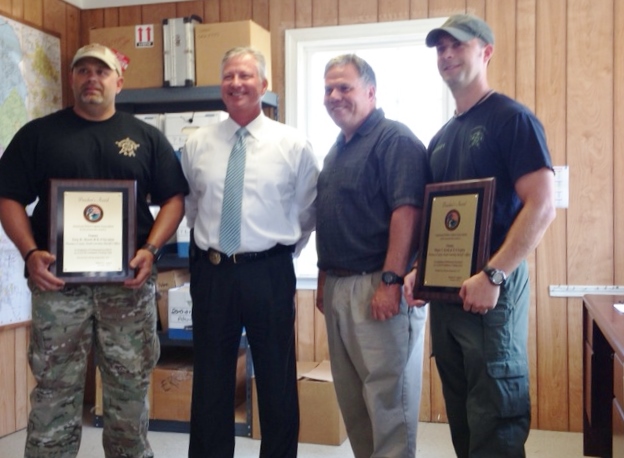 END
Captain Michael M. Nunn
General Counsel/P.I.O.