PRESS RELEASE
October 27, 2016
FCSO K-9 Handlers Receive National Recognition
Specially trained K-9 handlers assigned to the FCSO Criminal Enforcement Unit were recognized as the nation's best at the American Police Canine Association (APCA) national conference held September 25-29 in Bloomington, Indiana. The recognition is based on seizures of narcotics, illegal currency, apprehension and article finds such as weapons over the past year. The APCA President's Award is given on a basis of agency size. Members of the FCSO Criminal Enforcement Unit were awarded the United States Large Level Department Narcotics Interdiction Team of the Year for 2016.
The awards were presented to Sergeant Austin T. Spell and K-9 Una, Corporal Shane Keith and K-9 Ruger and Corporal Jamie Renfroe and K-9 Roby by APCA's President Michael D. Johnson. (see attached photo; left to right, Keith, Renfroe and Spell)
From September 1, 2015 to September 1, 2016, the FCSO Criminal Enforcement Unit had combined seizures of 111.7 pounds of cocaine (estimated street value of $4,972,800.00), $123,334.00 in illegal currency, 1655 grams of heroin (estimated street value of $165,500.00), 109.6 grams of methamphetamine (estimated street value of $10,960.00), 34 pounds of marijuana (estimated street value $765,800.00), 3 pounds of synthetic marijuana (street value unknown), 319 doses of other controlled substances, 3 illegal firearms and 13 felony arrests.
"These highly trained and dedicated members of the FCSO Criminal Enforcement Unit deal with some of the most violent criminals who come through our county," Sheriff Kenney Boone stated. "This national award recognizes them as the best in the country at what they do and that is what we strive to be every day. Congratulations to Austin, Shane and Jamie for a job well done."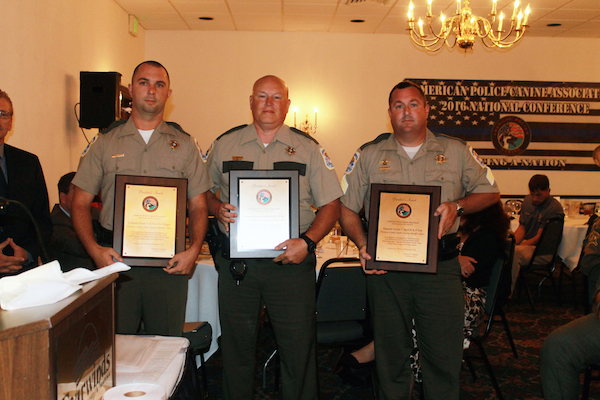 END
Major Michael M. Nunn
General Counsel/P.I.O.