PRESS RELEASE
June 17, 2016
FCSO DEPUTY HONORED BY FLORENCE BREAKFAST OPTIMIST CLUB
Florence County Sheriff's Office Corporal Angel Clark was honored by the Florence Breakfast Optimist Club on June 16, 2016 during its "Respect For The Law" banquet held at the Western Sizzlin restaurant on David McLeod Boulevard in Florence, SC. Each year, the organization honors a police officer who best exemplifies the Optimist Creed. Clark, shown here accepting the award with her supervisor, Lt. Mark Fuleihan, is a member of the Pro-Active Community Enforcement (PACE) team. Clark has been a FCSO deputy since 2010 .
"Part of the Optimist Creed is to "think only of the best, to work only for the best and expect only the best," Sheriff Kenney Boone stated. "Angel is all that and much more. We congratulate her on this well-deserved recognition and the great work she does for our agency."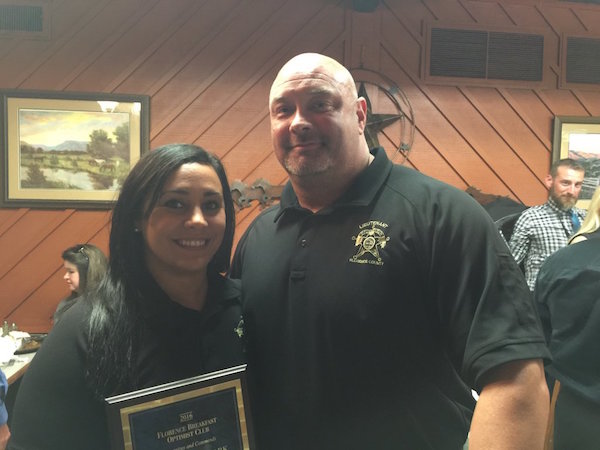 END
Major Michael M. Nunn
General Counsel/P.I.O.