PRESS RELEASE
October 7, 2015
FLORENCE COUNTY DIGGING OUT AS CONDITIONS BEGIN TO IMPROVE
Florence County remains under a State of Emergency Proclamation issued on October 4, 2015 in response to excessive flooding following historic rains. The county wide curfew has been lifted, although some areas subject to mandatory evacuation remain cut off from normal vehicle travel. While not anticipated at this time, as long as the State of Emergency Proclamation remains in effect, these emergency measures can be reinstituted if conditions warrant. Some roadways and bridges closed due to flood water and concerns over structural integrity are now reopened, although it will be some time before all roadways are cleared for vehicular travel. South Carolina Department of Transportation maintains a list of closed roadways on its website at www.511sc.org.
While some flood waters are beginning to recede, many low lying areas and property near rivers and streams remain under water. FCSO has evacuated hundreds of residents from areas subject to the mandatory evacuation and from areas which remain flooded using specially equipped vehicles and boats. South Carolina Department of Natural Resources (DNR) and Florence County Fire service also assisted in the rescue efforts.
Thankfully, we are now entering the recovery and assessment phase of the incident. While this phase of the operation is ongoing, we urge residents to continue to exercise extreme caution when traveling on roadways and returning to property as the danger is not over. It is possible for flood waters to remain or even rise in some areas over the next several days. Residents are urged to stay informed of conditions and to report any problems or incidents in their area to the Florence County Emergency Management and FCSO.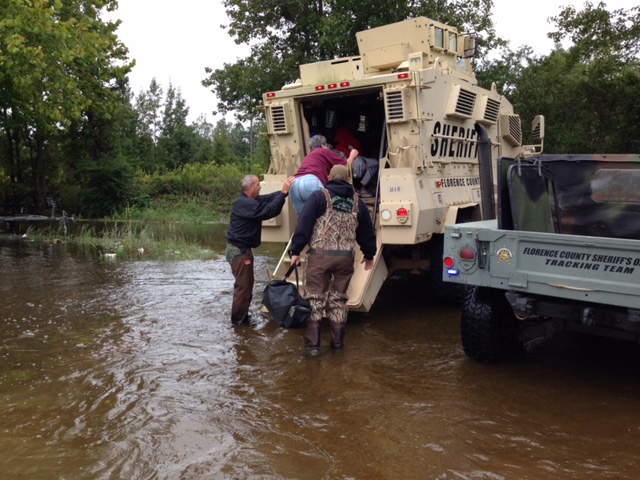 END

Major Michael M. Nunn
General Counsel/P.I.O.