Boone Takes Lead of Sheriffs' Association
PRESS RELEASE
For Immediate Release – July 29, 2015

Columbia, SC – Sheriff Kenney Boone of Florence County has officially been sworn in as the new President of the South Carolina Sheriffs' Association. Boone took the Oath of Office at the Association's Annual Conference in mid-July. He was sworn in to the Office of President by former Florence County Sheriff Billy Barnes, who also served as the Association's President in 1987.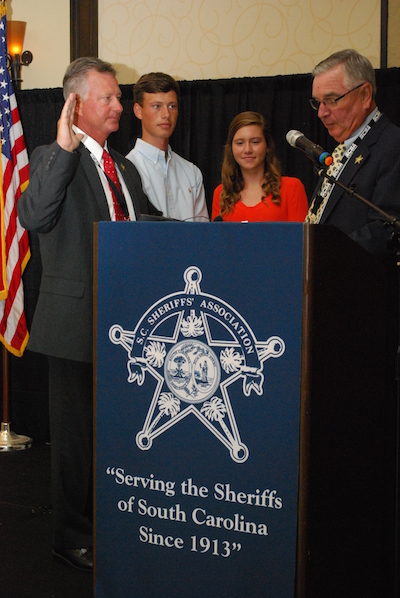 In Boone's first comments as the Association's President he recalled a particularly memorable moment on a recent trip to Washington DC where he had the opportunity to tour the headquarters of the United States Secret Service. "As you walk in to the main lobby of the Secret Service Headquarters, you see large signs in several locations that say, 'Honor the Oath. Always Be Worthy of Trust and Confidence.' Those words have echoed in my mind and soul from that day until now." Boone went on to encourage and challenge his fellow Sheriffs by saying, "We are serving as Sheriffs because the majority of citizens in our counties believe we are worthy of trust and confidence. Furthermore, our citizens genuinely believe we will do all we can to help when the need arises. Sheriffs, please here me when I say this – you and I are more than the leaders of our organizations. We have been chosen for a reason. We have been called to be leaders – not only for the men and women in our offices, but for the citizens in our counties, our State, and our nation. We must live and lead in accordance to the calling we have received."

Boone went on to say, "I have often heard it said that, 'Respect is not given, it is earned.' I would submit to you that we should care less about the respect we are shown and care more about the service we offer. We should all seek to protect and serve the citizens of our counties equally without regard for race, religious affiliation, sexual orientation, or prominence in society. Respect will be shown based on our actions, not the mere presence of a badge, gun, or title. As leaders in law enforcement, we must model these actions for our officers. We must be the change we want to see."
Boone concluded his remarks by laying out his intentions for his term in office, "As President of the SC Sheriffs' Association, it is my desire to spur each of us to be worthy of trust, worthy of the confidence our communities instill in us, and to honor the oaths we have taken. Our world is crying out for leadership and we must answer the call. I again thank you all for giving me the opportunity to lead this Association and I look forward to serving each one of you."
In addition to Sheriff Boone being sworn in as the Association's new President, the following Sheriffs also assumed roles on the Association's Board of
Directors:
President - Sheriff Kenney Boone
First Vice President - Sheriff Leon Lott
Second Vice President - Sheriff Barry Faile
Secretary/Treasurer - Sheriff Lee Foster
Sergeant-at-Arms - Sheriff John Skipper, Jr.
Chaplain - Sheriff T.C. Smalls

District I Rep. Sheriff Bruce Bryant
District II Rep. Sheriff Thomas Summers, Jr.
District III Rep. Sheriff Jim Matthews
District IV Rep. Sheriff Tom Carter, Jr.
Immediate Past President Sheriff Chuck Wright
Should you have any questions or need further information, please contact Jarrod Bruder, Executive Director of the SC Sheriffs' Association, by phone at (803) 360-1356 or by email at This email address is being protected from spambots. You need JavaScript enabled to view it..