PRESS RELEASE
July 8, 2015
CAMP PEE DEE PRIDE RECEIVES MAJOR DONATION FROM CSX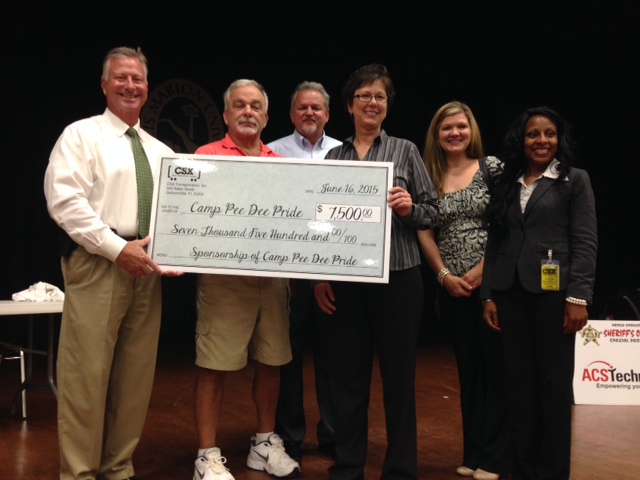 On July 1, 2015 Camp Pee Dee Pride received a major donation for camp activities from CSX in the amount of $7500.00. Sheriff Kenney Boone gladly accepted the donation at a ceremony held during the camp at the Francis Marion University Auditorium. Appearing on behalf of CSX and presenting the check were Doug Rihanek, Superintendent of Train Operations, Angie Averitte, Assistant Division Manager for Southeastern Operations, Rachel Maxwell, Clerk and Sandra Sea, Manager of Community Affairs and Safety.
"We cannot adequately express our appreciation to CSX and all other sponsors of Camp Pee Dee Pride," Sheriff Kenney Boone stated. "Camp Pee Dee Pride has been making a difference in the lives of Florence County youth for 19 years, and with support like this, it will continue for years to come."
Camp Pee Dee Pride, a registered charitable organization is the special project of FCSO Captain Wayne Howard and has provided a safe, wholesome and fun summer camp experience for approximately 5000 children from all walks of life. The Camp operates exclusively on private donations and in 2014 received an award from the South Carolina Secretary of State as the second best run charitable organization in the State, with over 98% of donations going directly to youth activities.
The Camp operates three two-week sessions and will involve over 300 children during the course of the summer. "This is our way of showing how much we are willing to invest in the youth of Florence County by way of providing a fun learning experience along with a positive image for law enforcement," Captain
Wayne Howard stated. "If we are able to keep one child from getting into trouble, it's all worth it."
END

Major Michael M. Nunn
General Counsel/P.I.O.