PRESS RELEASE
December 4, 2014
FCSO Needs Your Help Identifying Armed Robbery Suspect
Florence County Sheriff's Office needs your help in identifying a suspect wanted in connection with the armed robbery of a motel earlier today. At approximately 1:48 PM today, the suspect entered the motel located at 2101 Williston Road (Highway 327) near Florence, SC and after informing the clerk that he had a firearm in his pocket, demanded money. Afterwards, the suspect left the motel in what is believed to be a white 4 door sport utility vehicle (SUV).
The suspect, shown in the attached photograph from video surveillance, is described as a heavy set black male in his late twenties to early thirties, approximately 6 feet tall and weighing approximately 220 pounds. The suspect was last seen wearing a multicolored shirt and blue jeans.
Anyone with knowledge or information regarding this incident, or the identity or location of the suspect is asked to contact the Florence County Sheriff's Office at (843) 665-2121, ext. 340 or Crime Stoppers of the Pee Dee at 1-888-CRIMESC. You can also leave information on Crime Stoppers Website at www.pdcrimestoppers.org. You do not have to reveal your identity.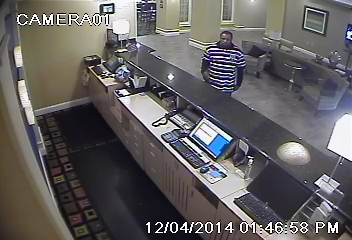 END

Major Michael M. Nunn
General Counsel/P.I.O.