BY JOSHUA LLOYD Morning News (Original Article)
FLORENCE, S.C. – The Florence County Sheriff's Office recently got a "sweet" new addition to their bloodhound tracking team. Sugar is a 5-month-old bloodhound puppy who has already started her training to become a top-notch missing person tracker.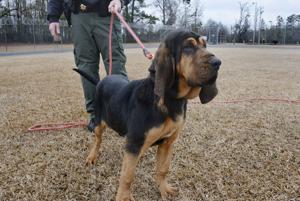 Sugar was donated to the sheriff's office by the Law Enforcement Advocacy Foundation (LEAF) earlier this month, and handlers say she's learning fast.
Sheriff's office bloodhound handler Cpl. Paul Morrison spends time training Sugar every day and said she's advancing quickly for her age. He said she will be ready to join the tracking team in about 6 to 8 months, when she's fully capable of fulfilling her tasks.
"These dogs aren't just for finding criminals and bad guys," Morrison said. "If we have a missing child or a person with mental disabilities that becomes lost, we'll deploy the bloodhounds and they'll help us locate them … It's a lot of work but it's all worth it when we're able to find somebody."
He said the puppy will be taught to hone in on specific "people scents." He said the trainers help the dog realize that their sense of smell is greater that their eye-sight.
"To them (the hounds) tracking is not a hard job. It's like a game, and they always want to play," Morrison said. "We get that drive to an all-time high, and we build on it. We do a lot of 'treat training' with them so it's fun for them. … They already know how to do the job, we just help them unlock it."
He said bloodhounds can pick-up a scent from a variety of objects, such as pillow cases, clothing and keys, and once they have the scent they'll track the smell until the person is found or the trail disappears. He said objects are often placed in a plastic bag for a period of time to amplify the smell for the dogs to ensure they have a strong lock on the scent.
"One of the things that create the smell is sloughed off skin cells," said Maj. Mike Nunn. "Some can even pick-up on the scent of fear. There's some pretty incredible science behind these dogs."
LEAF Executive Director Stacey Watts said Florence was an obvious choice for Sugar because she knows the canines are treated well and properly trained by the sheriff's office.
"A lot goes into deciding where the dogs go," Watts said. "Obviously, our main concern is the safety and well-being of the dogs, where they are housed and who they will be paired with … FCSO was chosen for Sugar because she was needed, and we knew that she would be in great hands."
Florence County Sheriff Kenney Boone said he's pleased with the work the bloodhound team does, and he's glad to have Sugar as a new addition to the team.
"We welcome Sugar as our newest blood hound in training," he said. "As soon as she is old enough, and trained, she will join our other tracing canines to help us locate fleeing suspects, lost children and wandering Alzheimer's victims."
In addition to the bloodhound tracking team, the sheriff's office has narcotics dogs, full patrol dogs, apprehension dogs and bomb seeking dogs.