Sheriff Kenney Boone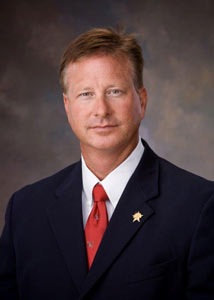 When I took office in January, 2005, I immediately went to work to fulfill the promises I made to the citizens of Florence County during my campaign. The first of which was to aggressively continue the progress of the FCSO towards becoming a true pro-active law enforcement agency.
To that end, we now have deputies assigned on a full-time basis to the DEA Task Force; the Pee Dee Violent Crime Task Force; the FBI Joint Terrorism Task Force and the U.S. Marshals Service "Operation Intercept" which has accounted for over 300 fugitive arrests since October, 2005. We have also entered into multi-jurisdictional agreements with all of the sheriff's offices in the state to ensure access to every available law enforcement resource, be it manpower or equipment.
One of the pro-active initiatives of which I am most proud is our sex offender registry validation program where we physically verify the addresses of registered sex offenders in Florence County. The FCSO was one of the first agencies in the state to initiate such a program, and we will continue to seek and implement new initiatives designed to keep our children safe.
The FCSO has also been in relentless pursuit of the criminal element which has resulted in numerous arrests of drug-traffickers who deal in everything from crystal-methamphetamine to crack cocaine. We have been highly successful in seizing the assets of these dealers which we have used against them through the purchase of police vehicles used in narcotics interdiction operations, and to fund additional training efforts for our officers. Using seized assets in this fashion also allows us to be more effective without increasing the burden to the tax-payers of Florence County.
Additionally, we have doubled the size of the FCSO Reserve Deputy Program which allows us to provide essential services without additional costs. These reserve deputies include a medical doctor, two lawyers and six emergency medical technicians, all of whom bring rich and diverse experience and skill to the FCSO.
The FCSO has also been quick to learn from the events surrounding the terrorist attacks of 9/11 and "Hurricane Katrina" by preparing for a response to natural disasters and terrorist threats. We currently have deputies assigned to the Florence County COBRA Team which is designed to respond to situations ranging from hurricanes to chemical and biological threats. The FCSO is also NIMS (National Incident Management System) compliant which allows us to qualify for Homeland Security funds and be better prepared in the event of a large-scale emergency. Additionally, our SWAT team has recently achieved "level one" status which recognizes them as one of the state's top tactical programs.
We are also extremely proud of our community-oriented programs such as the FCSO Citizens Academy and the FCSO Women's Firearm Safety Program. Moreover, Camp Pee Dee Pride and our Police Explorer's Program continue to be great resources and learning experiences for the children of Florence County. Our employees also continue to give tirelessly of their time by volunteering to participate in our annual fishing and hunting tournaments as well as our poker runs. Money derived from these events is used to fund programs like Camp Pee Dee Pride.
Yet, while much has been accomplished, there is much that remains to be done. We are currently increasing our vigilance in traffic enforcement in an attempt to make our roads safe for the motoring public. The FCSO is currently implementing the PRO-ACT (Professionalism, Accountability, Communication and Teamwork) program which is modeled upon the COMPSTAT philosophy that closely analyzes crime statistics and other relevant data to put appropriate resources where crime is recurring. This approach has been hugely successful in areas where it has been employed.
It is my sincere hope that you find this website useful and informative, and that you will re-visit it in the future to learn more about how our relentless pursuit of the criminal element is making Florence County a safer place for all who live, work and visit here.
Sheriff Kenney Boone
"All that evil needs to triumph is for good men to stand by and do nothing."
-Edmund Burke